DEBIT MASTERCARD & iPAY BILL PAY
With the swipe of a card or a click of a mouse, it is now even easier to pay merchants or payees. Streamline your checking account and finances with these FREE services.
Debit MasterCard
Our Debit MasterCard allows you to pay for purchases with money in your First Lincoln share draft checking account. Use the Debit MasterCard as an ATM card or use it to make purchases at participating merchants located worldwide wherever the STAR, CIRRUS, or MASTERCARD logos are displayed.
After Hours - Lost or Stolen Debit Card: Please Call (800) 523-4175 Immediately.
Debit Card Rewards by Buzz PointsTM
What could be more rewarding than earning while you spend? All you need is a First Lincoln Federal Credit Union debit card to enroll in the free Buzz PointsTM program.
You'll earn points whenever you us your debit card -- and earn even more points when the card is used at local or preferred businesses. Redeem points for gift certificates to perferred businesses.
Use your debit card with a PIN or signature anywhere and earn points for every dollar you spend.
Use your card at a Buzz merchant and get even more rewards.
Get extra points for various First Lincoln Federal Credit Union activities when we run special promotions.
Redeem your points for cash rewards to your favorite Buzz merchants or gift cards.
Surcharge-Free ATMs
Just look for the MoneyPass logo and you won't pay any ATM surcharge fees.*
With the STAR Network's nationwide ATM coverage, you can make withdrawals at over 50,000 conveniently located, surcharge-free ATMs.
Whether you're around town or traveling across the country, you're more than likely to find an ATM with the MoneyPass logo so you can use your debit card wherever you are without paying high fees.
Visit http://www.moneypass.com/atm-locator.html
OR
Select Surcharge-Free ATMs on the FLFCU Mobile App
*Applies only to member cards authorized by participating financial institutions. $1.50 service fee still applies to ATM withdrawals in excess of 5 transactions per month.
iPay Bill Pay
Managing your First Lincoln Federal Credit Union checking account is now even easier with our FREE Online Bill Pay Service! Bill Pay has many advantages including:
24/7 Access Through Our Online Home Banking Service
Quick & Easy - Saves You Time & Money
Reduces Risk of Identity Theft & Account Fraud
No More Checks, Envelopes, or Stamps
Convenient Bill Paying While You Travel
Click on the Graphic Below to See a Demonstration of iPay Bill Pay.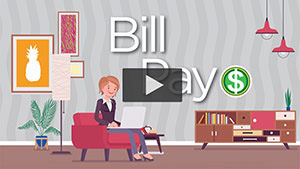 Checking Account Members: To sign up for iPay Bill Pay, simply log into Online Home Banking and select the "iPay Bill Pay" Tab.